Hey everyone! I think I've just about recovered from the media storm after finishing my LEJOG journey. Crazy times but lots of fun. So now I'm taking CycleVR on tour!
Very soon the Scottish Cycling, Running and Outdoor Pursuits Show will be happening at the SEC in Glasgow and I'm going to have a stand there with 2 vr bikes you can ride! I'm so excited. You can find out more about the show here www.scrops.co.uk

It's a 3 day event running from the 10th-12th March and costs £5-£10 per adult if you buy tickets online. BUT! I've got 2 free tickets to give away. BAM! So if you want to come and try out CycleVR for yourself, and you hate paying money for things, send me an email to aaron@cyclevr.com. You might get lucky! I'm picking the winner at random (and will announce who it is on the blog) on the 3rd March. Oh and make sure you can actually make it to the show before emailing 🙂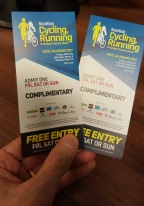 Free free free!